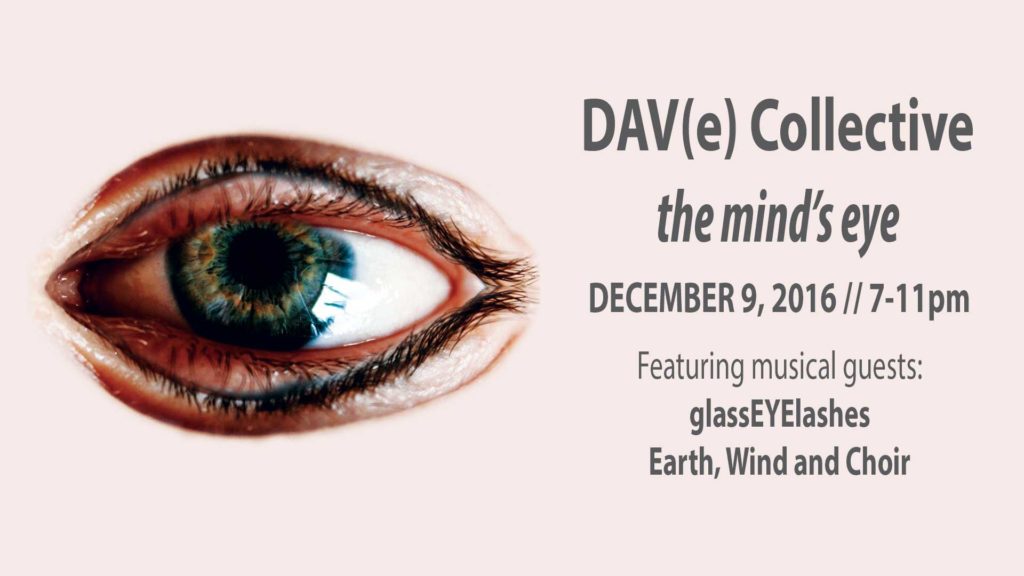 The Mind's Eye
by DAV(e) collective
Opening Art Crawl Party – December 9th, 2016 // 7-11pm
Featuring musical guests:
GlassEYElashes https://glasseyelashes.bandcamp.com/
& Earth, Wind and Choir
The Mind's Eye is a collaborative video installation focused around what we 'see' in the world versus how we see it in our minds, and the disconnect that exists between 'reality' and how we process it internally. Look into our eyes, and feast on the DAV(e) collective's mental imagery, insecurities, fears, and the dark depths of our psyches.
" … we are not just looking at a scene from outside; we are always in it. People, you might say, are biological sensing devices, placed in an infinitely complex three-dimensional environment. What we see, subjectively, is always related to what we are interested in … the eye is attached to the mind."
— Martin Gayford, writing on David Hockney
DAV(e) collective:
We are a feminist inter-arts collective comprised of Dima Matar, Amy McIntosh, and Vanessa Crosbie Ramsay. We are practicing professional artists committed to creating, both together and individually, and to supporting, encouraging, challenging, and elevating each other's work. We aim to make art that highlights our female experience. We're interested in film & video, site-specific installation, storytelling, visual art, soundscapes, photography, interactivity, sculpture, collage, diverse representation, community engagement, sharing our angst, chipping away at the patriarchy, supporting women in general, and amplifying other female voices in the arts.