This summer, Factory Media Centre is partnering with the Hamilton Conservatory for the Arts and Culture for Kids in the Arts to offer free summer camp to children aged 9-12 whose families may not otherwise be able to send them to camp. This program is supported by the Hamilton Community Foundation.
Factory Film Camp is designed to give children hands-on art and filmmaking skills, with an emphasis on creative self-expression through digital media. Camps start at 9am and end at 3pm, with aftercare options available. All equipment and art materials will be provided, as well as healthy snacks and beverages. The cost of camp is fully subsidized through funding support from the Hamilton Community Foundation. We will be running two five-day camps: the week of July 17th and the week of July 24th.
Kids will learn how to make a film from start to finish with the guidance and leadership of local artist-educators and professional filmmakers. Working in groups, students will write scripts, learn how to use (and care for) audio and visual equipment, make their own props, learn filming and lighting techniques, try editing, recording sound, and adding soundtracks to their films. Each weeklong camp will culminate in a celebratory screening for friends and family.
This is an excellent opportunity for kids to participate in engaging workshops, learn to use media arts to express themselves, and truly shine when their work is presented to an audience of their peers! If your child is not eligible for Film Camp, please help us in spreading the word so that children from low-income families can properly benefit from this opportunity.  Enrollment is limited to approximately 18 kids per camp/week.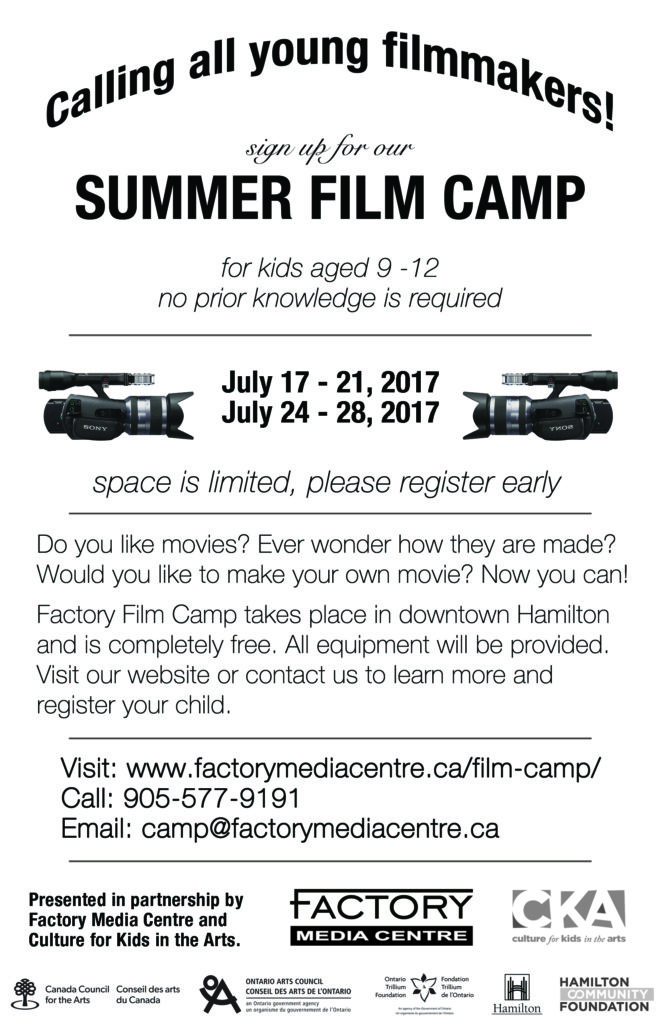 To register, please download the word-fillable REGISTRATION FORM and send us the completed version at camp@factorymediacentre.ca. Alternatively, you may call us during our regular hours and we will complete the form with you over the phone.
If you have any questions, please do not hesitate to contact us at camp@factorymediacentre.ca or call 905-577-9191.